Transactive Energy Conference 2013
The GridWise® Architecture Council (GWAC or Council), with support from Pacific Northwest National Laboratory (PNNL), the Bonneville Power Administration (BPA) and Smart Grid Oregon and Portland General Electric, convened the First International Conference and Workshop on Transactive Energy in Portland, Oregon, on May 23−24, 2013.
The Transactive Energy Conference and Workshop 2013 were organized by the GWAC as part of its mission to further the advanced thinking about the guiding principles, or architecture, of a highly intelligent and interactive electric system.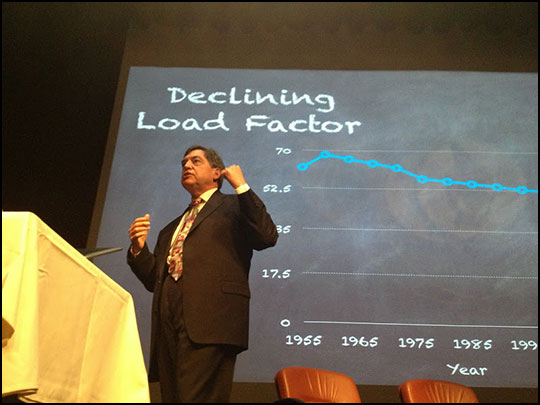 The goal of the conference and workshop was to bring together organizations, researchers and practitioners that have been researching, developing and deploying transactive energy techniques and business models.
The conference was part of the continuing work of the GWAC in defining Transactive Energy and developing an overarching framework to support development of this technical area within the electric power and building technologies industries. The GWAC believes that these results will enable accelerated adoption of transactive energy policy and technologies policy worldwide.
This first of its kind conference offered industry participants an opportunity to demonstrate leadership, both in products and in industry evolution. Organizations were given an opportunity to help offset the cost of the conference through sponsorships and 25 of them did so. The Architecture Council and Smart Grid Oregon are thankful to them for their support.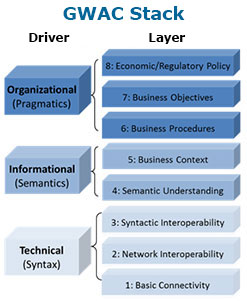 The conference structure was an adaptation of the "GWAC Stack" (a layered model of electric power system interoperability) to lay out theory (Architecture) and practice (Implementation) tracks for transactive energy. Within each track the layers of the GWAC Stack formed the scope of discussion. This started at the upper layers (Business and Policy) and moved through the middle layer (Control Architecture) to the lower layers of the GWAC Stack (Technical or Cyber-Physical). Two domain-specific workshops were included focused on building technologies from the perspective of grid integration and then looking at applying transactive approaches within buildings and facilities. Each of the four topical areas included two serial sessions to engage the experts and interested stakeholders and in combination spanned a total of three hours of discussion of the topic with attention to both theory and practice.
The complete proceedings are available for download including the individual presentations.
These proceedings start with a summary of opening remarks and some background material on the topic of transactive energy and the previous GWAC workshops on this subject. The conference program is then presented with short summaries of each session and links to the presentations. The main body of the proceedings concludes with a framework progress summary, basically an overall recap of the conference, and discussion of next steps. Four appendices are included. Appendix A provides links to the read ahead and other reference material for the conference and workshops. Appendix B has the agenda for the meeting. Appendix C presents the summarized discussion notes and takes always for each of the workshop sessions. Finally, Appendix D has profiles for each of the conference or workshop speakers.